Posts for: April, 2018
By Herring Family Dental
April 21, 2018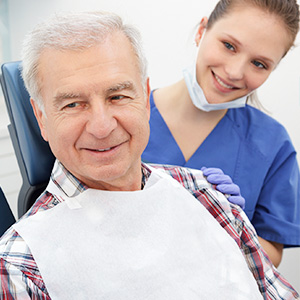 Dental implants are best known as restorations for single missing teeth. But there's more to them than that—they can also be used to support and secure removable dentures or fixed bridges.
That's because a dental implant is actually a root replacement. A threaded titanium post is inserted directly into the jawbone where, over time, bone cells grow and adhere to it. This accumulated bone growth gives the implant its signature durability and contributes to its long-term success rate (95%-plus after ten years). It can support a single attached crown, or serve as an attachment point for a dental bridge or a connector for a removable denture.
The method and design of implants differentiates it from other restoration options. And there's one other difference—implants require a minor surgical procedure to insert them into the jawbone.
While this might give you pause, implant surgery is no more complicated than a surgical tooth extraction. In most cases we can perform the procedure using local anesthesia (you'll be awake the entire time) coupled with sedatives (if you have bouts of anxiety) to help you relax.
We first access the bone through small incisions in the gums and then create a small channel or hole in it. A surgical guide that fits over the teeth may be used to help pinpoint the exact location for the implant.
We then use a drilling sequence to progressively increase the size of the channel until it matches the implant size and shape. We're then ready to insert the implant, which we remove at this time from its sterile packaging. We may then take a few x-rays to ensure the implant is in the right position, followed by closing the gums with sutures.
There may be a little discomfort for that day, but most patients can manage it with over-the-counter pain relievers like aspirin or ibuprofen. It's what goes on over the next few weeks that's of prime importance as the bone grows and adheres to the implant. Once they're fully integrated, we're ready to move to the next step of affixing your crown, bridge or denture to gain what you've waited so long for—your new implant-supported smile.
If you would like more information on dental implants, please contact us or schedule an appointment for a consultation. You can also learn more about this topic by reading the Dear Doctor magazine article "Dental Implant Surgery: What to Expect Before, During and After."
By Herring Family Dental
April 11, 2018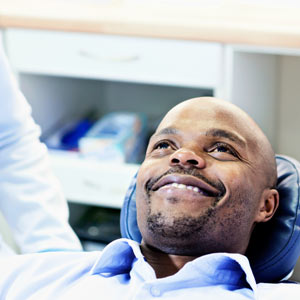 Although dental visits are routine for most people, it's a different experience for a few. About one in ten adults have high anxiety or fear of going to the dentist and may avoid it altogether—even when they have an acute situation.
If you're one of those with dental visit anxiety there's good news—we may be able to help you relax and have a more positive experience. Here are 3 things you need to know about reducing your anxiety at the dental office.
It starts with the dentist. While every patient deserves a compassionate, understanding dentist, it's especially so if you suffer from dental visit anxiety. Having someone who will listen to your concerns in a non-judgmental way is the first step toward feeling more comfortable in the dentist's chair. It also takes a sensitive practitioner to work with you on the best strategy for relaxation.
Relaxation often begins before your visit. There are various degrees of sedation (which isn't the same as anesthesia—those methods block pain) depending on your level of anxiety. If you experience mild to moderate nervousness, an oral sedative an hour or so before your appointment could take the edge off and help you relax. Oral sedatives are also mild enough for use with other forms of sedation like nitrous oxide gas, and with local anesthesia.
High anxiety may require deeper sedation. If your level of anxiety is greater, however, we may recommend IV sedation to induce a much more relaxed state. The sedation drugs are delivered directly into your blood stream through a small needle inserted into a vein. Although you're not unconscious as with general anesthesia, we can place you into a "semi-awake" state of reduced anxiety. The drugs used may also have an amnesiac effect so you won't remember details about the procedure. This can help reinforce positive feelings about your visit and help reduce future anxiety.
If you're anxious about dental visits, make an appointment with us to discuss your concerns. We're sure we can work out a strategy to reduce your anxiety so you can receive the dental care you need.
If you would like more information on sedation therapy, please contact us or schedule an appointment for a consultation. You can also learn more about this topic by reading the Dear Doctor magazine article "IV Sedation in Dentistry."