Posts for: October, 2017
By Herring Family Dental
October 27, 2017
Barley malt, corn syrup, maltodextrin — these and over fifty other label ingredients are all names for refined sugar. Under its various aliases, this sweet carbohydrate is tucked away in three-quarters of packaged foods in the U.S.
Although in recent years the general health effects from too much sugar have gained the spotlight, its effect on dental health has been known for decades. Accumulated sugar in the mouth is a prime food source for bacteria that cause tooth decay and gum disease.
For both general and oral health, people have been looking to artificial alternatives to satisfy their sweet tooth. But do they have their own issues that can impact overall health? Here is an overview of some of the more popular brands of artificial sweeteners and their effect on health.
Saccharin — One of the most widely used artificial sweeteners, saccharin is often used under the names Sweet'N Low or Sugar Twin in low-calorie foods because it contains no calories. According to the Food and Drug Administration (FDA) there are no associated health risks with consuming saccharin in recommended servings.
Aspartame — used commonly in beverages as Equal or NutraSweet, aspartame is unsuitable for cooking because its chemical structure breaks down under high heat. Although generally safe for consumption, it can affect people with a rare condition known as phenylketonuria that can't adequately break down its chemicals.
Sucralose — marketed as Splenda, this sweetener is made by chemically altering refined table sugar so the body can't process it. This may be one reason it has the most recognized natural flavor profile among consumers and is a market leader. It's stable at high temperatures, so it's often used in cooked or baked goods.
Stevia/Erythritol — this combination of an extract from the extremely sweet herb stevia and the sugar alcohol erythritol is marketed as Truvia. Unlike other calorie-free artificial sweeteners, this and other alcohol-based sweeteners have a low calorie level due to sugar alcohol's characteristic of slow and incomplete absorption during digestion.
Xylitol — although all the previously mentioned sweeteners won't promote bacterial growth like refined sugar, the sugar alcohol xylitol — often added to chewing gum and mints — has an added benefit: it may actually reduce levels of bacteria most likely to cause decay.
If you would like more information on the effect of sweeteners on dental health, please contact us or schedule an appointment for a consultation. You can also learn more about this topic by reading the Dear Doctor magazine article "Artificial Sweeteners."
By Herring Family Dental
October 12, 2017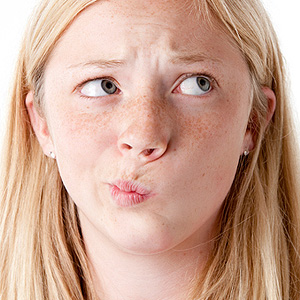 As if the preteen years didn't give kids and their parents enough to think about, new oral health concerns loom on the horizon. Along with major changes to the body, brain and emotions, additional risk factors for tooth decay and gum disease appear during adolescence — the period of development starting around age 10 and extending through the teen years that marks the transition from childhood to adulthood.
Even with declining rates of tooth decay across the nation, the cavity rate remains high during adolescence. According to the American Academy of Pediatrics, 1 in every 5 adolescents has untreated tooth decay. What's more, the onset of puberty — usually beginning around age 10-11 in girls and 11-12 in boys — brings changes in hormone levels that can affect gum health.
We all have millions of microorganisms in our mouth, representing hundreds of different species of mostly helpful, but some harmful, bacteria. Research has shown that total oral bacteria increases between ages 11 and 14, and new types of bacteria are introduced, including some that are not friendly to teeth and gums. Some unfamiliar microbes trigger an exaggerated inflammatory response to dental plaque, so gum bleeding and sensitivity are experienced by many children in this age group. In fact, "puberty gingivitis," which peaks around age 11-13, is the most common type of gum disease found during childhood.
A combination of hormones, lifestyle changes and poor oral hygiene habits raises the risk of oral health problems among adolescents. A more independent social life may be accompanied by a change in eating habits and easier access to snacks and beverages that are sugary, acidic (like sports drinks and soda) or full of refined carbohydrates — none of which are tooth-healthy choices. And as children move toward greater independence, parents are less likely to micromanage their children's personal care, including their oral hygiene routines. Good oral hygiene can keep dental plaque at bay, lowering the chance of having gingivitis and cavities. But let's face it: Adolescents have a lot to think about, and keeping up with their oral health may not be a priority.
To help your preteen stay on top of their oral health, keep healthy snacks at home for your children and their friends and make sure you are well stocked with supplies such as new toothbrushes, floss and toothpaste. In addition, most preteens (and teens) can benefit from gentle reminders about oral hygiene routines.
For optimal oral health through all stages of life, make sure your preteen keeps up with professional teeth cleanings and exams, and talk with us about whether fluoride treatments or sealants may be appropriate for your child.
For more on your child's oral health, read "How to Help Your Child Develop the Best Habits for Oral Health" and "Dentistry & Oral Health For Children" in Dear Doctor magazine.